About us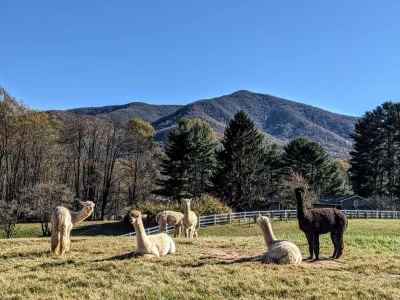 What is Winchester Creek Farm?
Winchester Creek Farm in Waynesville, NC is a family-owned and operated, 20-acre farm with rolling green pastures surrounded by the majestic Smoky Mountains. We raise adorable alpacas and a variety of miniature farm animals — horses, cows, donkeys, and even a pig. We really enjoy sharing our farm, knowledge, and our love of animals with others.
Conveniently located about 35 minutes from Asheville on the Smoky Mountain Expressway, just outside of Waynesville, NC.
If you're in the area and would like to visit us, feel free to schedule a tour at www.winchestercreekfarm.com
Why Granny's House?
Granny's House was created by our founder Gayle who was inspired by her mom, "Granny". Granny always found the best treasures during her travels across North America; and what she couldn't find, she made. And now, we bring treasures like these to one shop.
You can shop online, in-person, or both! Granny's House is currently located on the farm inside one of our barns. But in May 2021, we will remodel and open the original farmhouse with even more goods.
Come shop to find the best alpaca and farm-related items!